Snapchat iOS 10.3.4 iPhone 5,5c Download
When it comes to Snapchat for iPhone 5 which is not compatible as mentioned on app store what i tried to install Snapchat so i installed but things are not same if you Install Snapchat iOS 10.3.4 on iPhone 5
You can still Install it but it seems slow if you use also it lags
Things You need to Know about Snapchat for iPhone 5
if you want to install snapchat and want best experience you get only on latest version of its app which possible if you have iPhone 6 or later iPhone's and iPad but i don't thing it will work best on iPhone 5 if you should switch to other iPhone if can get great app experience
While I tried to Install it on iPhone 5

Snapchat on iPhone 5 vs iPhone 5s
As Snapchat is working but if we checkout the official compatible devices iPhone 5 is not mentioned but you can still downlaod it as far as snapchat tried with iPhone 5s after using both you can see that iPhone 5 still good but photo is looking yellowish with the same filter and iPhone 5s looks great here
Also Read, Top 10 Funny faces app for iPhone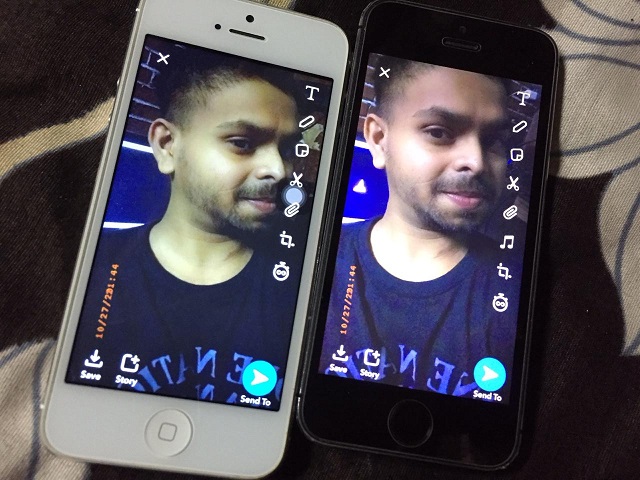 Future of Snapchat on iPhone 5
snapchat supports currently iOS 10 and really you need to know its not compatible as mentioned on app store due its not working as great and lag free with iPhone 5s later iPhone's
We can't ignore that iPhone 5 is in obsolete list that soon its not usable as in future you require a least iOS 12 to Install apps on your iPhone
FAQ
Snapchat can be installed on iPhone 5 ?
Yes you can Install Snapchat
does snapchat fiters are working?
Yes as it works to other iPhone
When Snapchat left support for iPhone 5 ?
There is no official announcement yet when it finally move to iOS 11 or later but you can still download its compatible version
Is Snapchat lags
Yes it lags a bit while comparing with iPhone 5s
Is there is any heat issues?
not so much but if you hold it you experience heat on back